Heli-skiing.
We are cooperating with our excellent partners HeliskiguidesSweden, run by Pia och Stefan Palm. Stefan is a mountain guide that has been working in this area and around the globe for more that 25 years. He is world-leading in his profession . Pia, international ski-teacher, takes care of the operation and makes it run smoothly for us all.
Together with Stefan and his flight manager Emil, we have the opportunity to offer a product of the highest quality possible. Our own Dick Johansson continues of course to guide his long-time private guests.
Security I:Here at the Lodge, we always use UIAGM (www.sbo.nu) certified guides or aspirant guides when we are skiing glacier and high-alpine terrain. We are in other words following the national recommendation regarding heli-skiing in Sweden. Our security-packs always include ABS backpack, lifelink snow-showel, probe and Barryvox Pulse transceiver.
Security II: Varje gäst får en genomgång av lavinsäkerhetsutrustning samt helikoptersäkerhet.
Risk management is something that follows us in all activities, wether you ski, climb or ice-fish. The guide has to consider weather, terrain, as well as the ability of the guests, helicopter security, avalanche risk etc. All off-piste skiing contains a certain risk, here at Abisko Mountain Lodge we do all that we can to keep that risk as low as possible.
We fly on what we call pitch-time, this means that you only pay for the time you actually fly, not when the helicopter is running standing still.
For a full day of heli-skiing you need about 2 hours of fly-time. You decide in advance what your budget is. Minimum per day is one fly-hour.
First time/different areas. Our runs differ from 500 height-meters to 1 400 height-meters. Closest to the Lodge is the Abisko-alps with runs from 500 to 800 meters. Next area is Kåtotjåkka where the runs can be 1 000 height-meters. Nallo/Sielmatjåkka further away with runs up to 1 400 height-meters. Last but not least, we also offer to take you down to Kebnekaise, were the runs lasts up to 1 100 height-meters. Since we have been flying so long in the area, the guides have a good eye for that little something to give you a good story to tell the others about a first descent or new path.
Environment, reindeer-herding and others in outdoor-life is taken into great consideration. We try to be very efficient with the logistics of flying to use as little fuel as possible. We also try to be as considerate towards others as possible. For example – we avoid flying at the peak of mount Kebnekaise when the tourist station there is open. We will not land on a peak if we see somebody ski-touring there. We have also a close communication with the different Sami villages to know what areas to avoid so we don't disturb their animals.
Equipment. As mentioned before we use ABS back-packs and Barryvox pulse transceivers. We recommend guests that already have their own equipment to bring this. We work together with Dynastar and have a number of skis for you to test.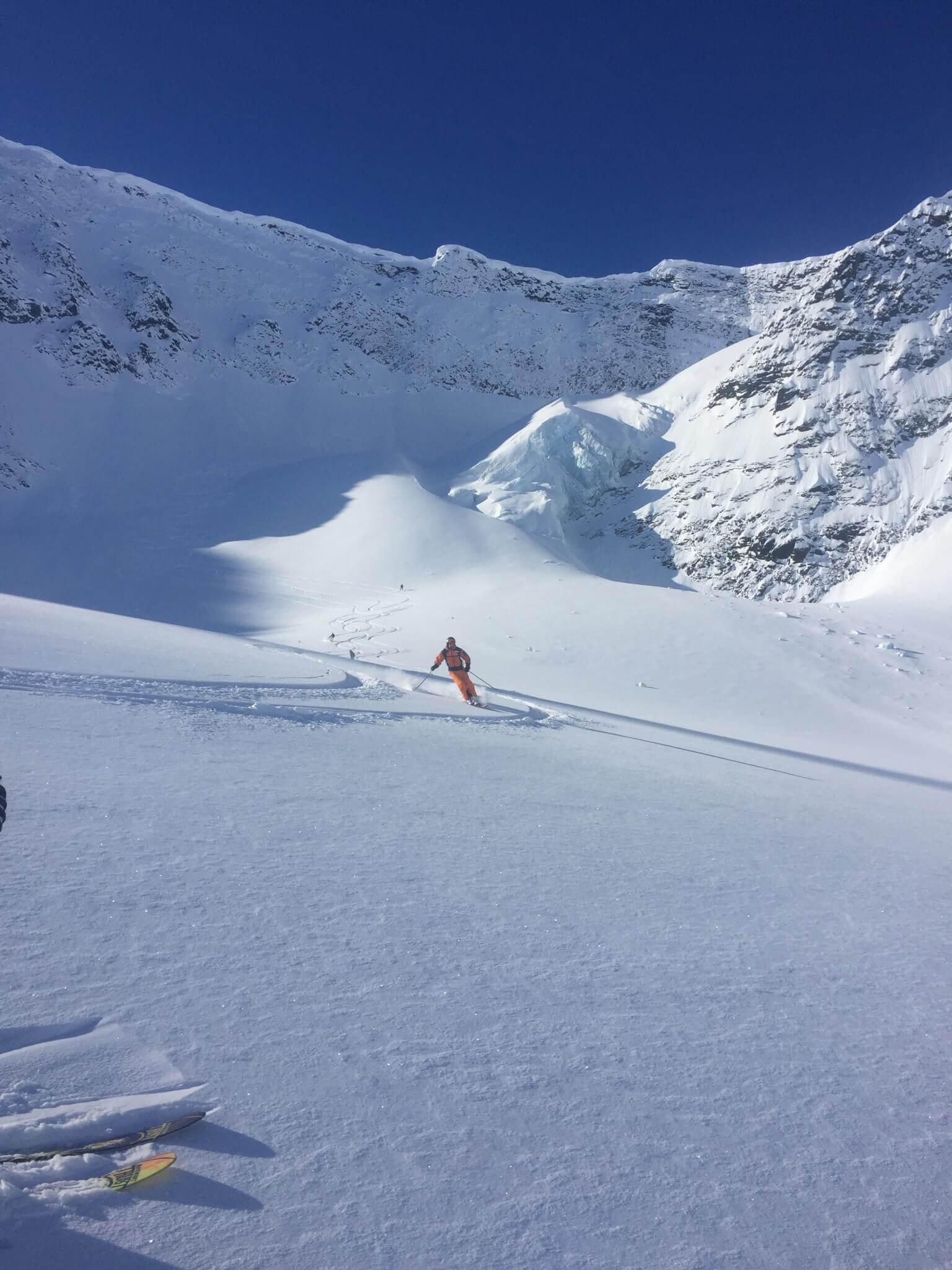 Private heli-ski package
4 persons / 6 days
Base-camp is Abisko Mountain Lodge with its outstanding kitchen at Brasserie Fjällköket.
This private package is the best set-up for you as a group of skiers/boarders. You own guide and helicopter – equals total freedom.
Included in the package:
• Private IFMGA-certifierad mountain guide
• 6 full days of heli-skiing
• Private helicopter: 12 hours pitch-time
• Accommodation at Abisko Mountain Lodge
• Breakfast buffet, Hot out-door lunch and 3-course dinner at Brasserie Fjällköket
• Security equipment: transceiver, probe, shovel and ABS-backpack
• Opportunity to test equipment from: Dynastar, Rossignol och Scott
• All transports: including pick-up och drop-off at the airport by a minibus.
(To and from Kiruna Airport, it is a 1½ hours drive, one-way)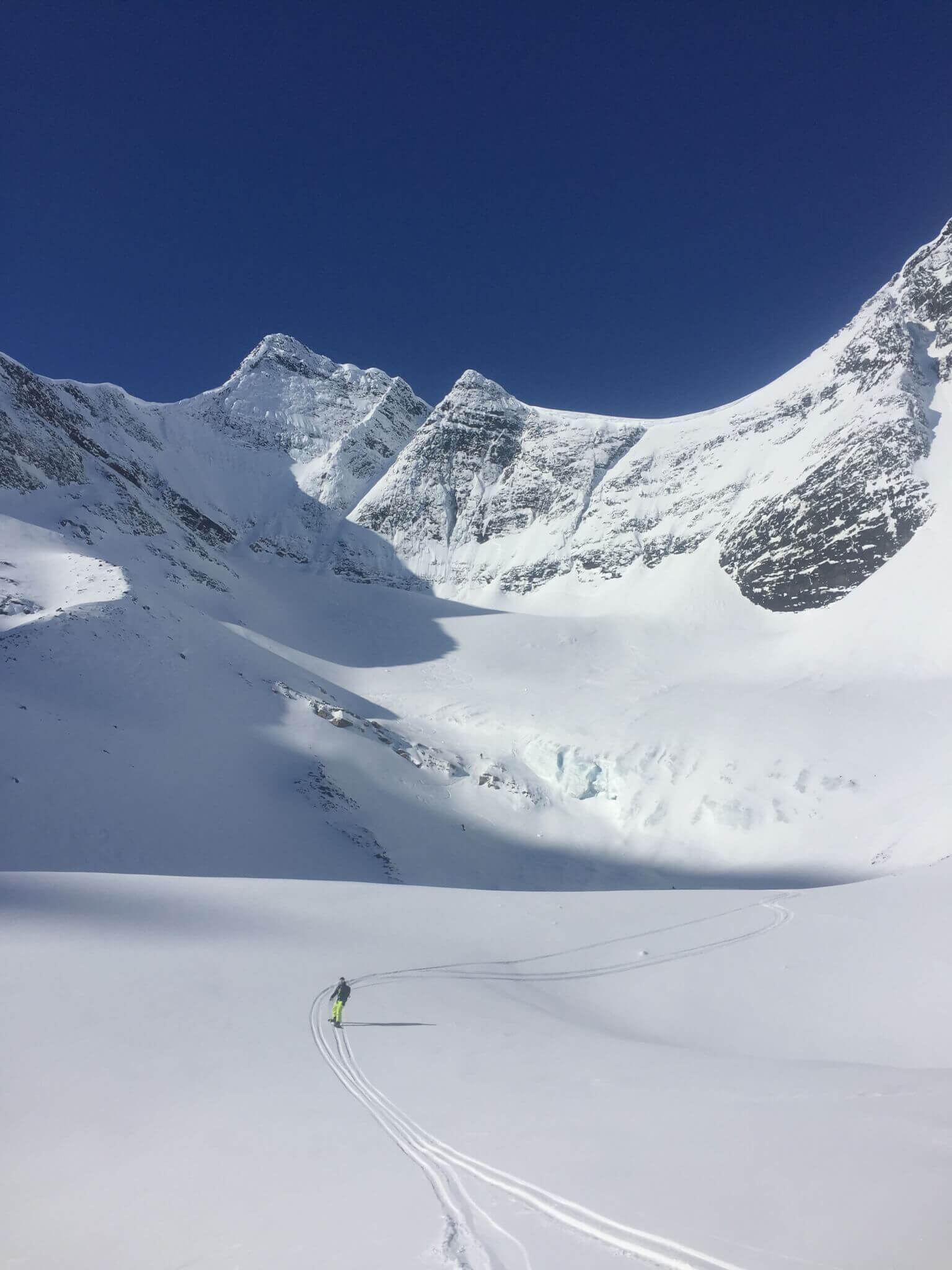 Semi-Private Heli-ski package
8 persons / 3 days
Base-camp is Abisko Mountain Lodge with its outstanding kitchen at Brasserie Fjällköket.
This semi-private package is the best set-up for you as a group of 8 skiers/boarders. 2 groups of 4 persons, each group with their own guide, shares the helicopter.
Included in the package:
• Private IFMGA-certifierad mountain guides
• 3 days of heli-skiing
• Private helicopter: 6 hours pitch-time, 3 hours per group
• Accommodation at Abisko Mountain Lodge
• Breakfast buffet, Hot out-door lunch and 3-course dinner at Brasserie Fjällköket
• Security equipment: transceiver, probe, shovel and ABS-backpack
• Opportunity to test equipment from: Dynastar, Rossignol och Scott
• All transports: including pick-up och drop-off at the airport by a minibus.
(To and from Kiruna Airport, it is a 1½ hours drive, one-way)